I remember many of the books that were read to me as a child. Reading was important in our household, growing-up, and my brother and I both learned to read prior to starting kindergarten. It is a value I am trying to pass down to my son.
His father would read to him, every night, when he was in-utero. When he arrived, we continued reading books during baths, with our bedtime routine, and, as he got older, with our nap-time routine. We even went (and still go) to playgroups/story-times at local bookstores and libraries. As a result, the little man loves books. He loves looking at the pages and making up his own stories from what he sees in the pictures. When it's time for bed, he will demand you read him 4-5 books.
I remember, pre-child, not knowing what children read. Don't get me wrong, I remember George and Martha, Good Night Moon, The Very Hungry Caterpillar, but as an adult, I did not really see the joy of children's books. There is a poetry to the stories, a beauty in the art. How magical is it that a young child can hold a work of art in his/her hands and really visit it through the words he hears?
Now that he is in our lives, my toddler has a pretty set line-up of books he loves to hear over and over again. Here are a few that your child might love, as well:
1. Goodnight Moon
This one is fun, in that, he can be involved in the reading of the book. I ask him what is in the bowl ("mush"), what the old lady says ("hush"), and what is in the first picture ("a cow jumping over the moon"). The book also has some great spoofs, like
Good Night Goon,
which we love to read around Halloween. And, for parents, we have fun things like this (not even remotely safe for work):
2. Knuffle Bunny: A Cautionary Tale
Another book that gets your child involved. Now that we have read this one a few times, I like to change to role of Trixie to J, the places they go to places in our house, and Knuffle Bunny to whatever is J's favorite toy at the time. When his friends are over, I do the same with them. At the end, you get them to yell the first word that they ever say. It's a good time had by all. Mo Willems, who used to work on Sesame Street, is great - kids seem to love all of his books, including
Naked Mole Rat
,
Don't Let the Pigeon Drive the Bus
, etc. Pro tip:
Willems has an exhibit on display
at Amherst's Eric Carle Museum!
3. Brown Bear / The Very Hungry Caterpillar
Who am I kidding though, it's not about me! My little dude loves hearing these again and again. They are very simple stories with bright colors and interesting pictures. You don't just see animals, you see them through Carle's imagination. A purple cat, a blue horse, a caterpillar who eats sausages and cake... These stories were also beloved to my husband as a child. The good part about the simple nature of the text is that, after time, your child can open the book and read it to himself without knowing how to read (if that makes sense).
4. I Took the Moon For a Walk
Barefoot Books
is not just an amazing publisher, it's an amazing community and place. Their American studio is located in Concord, MA and is beautiful. They not only offers classes, story times, crafts, and more, the studio is also a great place for a child's birthday party.
J loves the vast majority of their books, but this one seems to be his favorite. It's the story of a little boy who sees the moon overhead as a traveling companion. It's a wonderful way to wind down prior to bed - beautiful imagery and a song-like story. Plus, it doesn't hurt that the little man loves the moon, swings, and dogs.
5. Little Blue Truck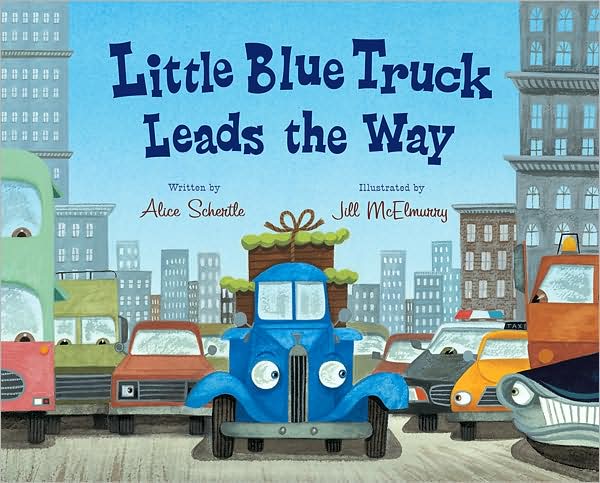 We love the original
Little Blue Truck
, but this seems to be the preferred version of the two. It's basically the story of a kind and well-mannered little truck - pretty much what you want your kids to be. Yet, it doesn't beat them over the head with the moral of the story. Boys love trucks, mud, and noises. These books have all of that.
6. The Adventures of Taxi Dog
This one is great if you have an adopted animal or tend to work with/visit your local shelters. The story is about a stray dog named Maxi who is rescued by a taxi driver. They have all kinds of adventures. I miss my dog.
7. Be Quiet, Mike!
I have not been able to find this one anywhere, besides the library, which is odd, because a.) it's great and b.) Patricelli is a pretty popular children's author. Usually, she does pretty simple board books that teach young children about opposites, being well-behaved, and about using the potty. This book is a delightful departure from that. It's about a monkey named Mike, who we assume is in elementary school. He has a passion for the drums, but no outlet for it. This book has a lot of fun sounds to make and a refrain that kids love to yell - "BE QUIET, MIKE!!" You can't lose with noise and yelling, when it comes to a 2 year old!
Which books do your child(ren) love?
Addendum: If you enjoy the Patricelli book, a great collection to invest in is the
Baby Loves Jazz
series. These books come with CDs that are actually enjoyable to adults, too! My son was hooked on
Ella Elephant
before he was even fully aware of his surroundings. The only sad thing is that some of the titles in the collection have since gone out of print; but the rest can be found in specialty children's book stores and on Amazon. They make great gifts for the babies of musical parents, too!
Not the best example of the series,
but you get the picture.